There is a new car share in town and it's name is Evo. It's actually a car share owned by the BC Automobile Association (BCAA). What a brilliant move by an automobile association to partake in the growing car sharing market.
Evo seems to be looking to eat into car2go's market share by offering a totally different auto option. The whole Evo fleet is comprised of black with teal trim Toyota Prius C hybrids. Every single car is equipped with ski and bike racks. It's definitely meant to appeal to a very different group of folks that want to take the car out of the city to the mountains and shred some snow or rubber.  Being a Prius C, there is a lot more room than a 2-seater car2go. So this will be helpful for car share users who want to have more passengers and/or cargo space.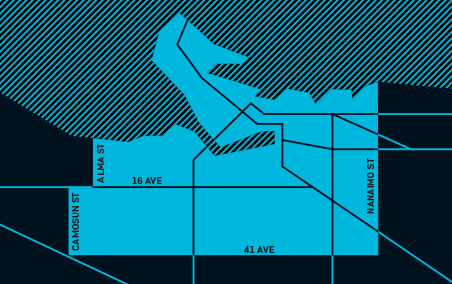 Just like all the other car shares in town, one can park the Evo car in any permit or residential spot or in a designated Evo parking spot. Check the signs carefully when parking, as with all car shares. The rental system mimics what car2go uses. One can use an Evo Car Share member card to tap into and tap out of a car for rentals. Evo also has a smartphone app to do the check-in and check-out of rentals.
The Home Zone for copies almost exactly the original car2go Home Zone, except car2go's western border originally went to the edge of UBC. The eastern border is Nanaimo Street, the southern border is 41st Avenue, and the western border is Alma/Camosun Streets. It looks like Stanley Park is part of the Home Zone, but all spots in Stanley Park tend be paid parking spots.
The rates start at $0.41 a minute and max out at $14.99 for each hour and $89.99 for a day. The rates literally mirror the same rates that car2go offer.
So compared to car2go, almost everything is identical except for its smaller Home Zone (for now), its larger 5-seater cars, and its bike and snow racks.
So if you live in the Evo Car Share Home Zone and you need access to a car that has more than 2 seats and/or need to carry bikes and skis somewhere, then Evo sounds like the perfect car share for you. For me, I don't necessarily need all that space for my errands around town because I have my own car to do that. I also live outside of the Evo Car Share's Home Zone. So Evo is a no-go for me. Heck. I haven't used my car2go in a few months because my wife haven't had much of a conflict for car use lately. However, car2go is much more convenient for me since I can drive it right up to my doorstep when I need it.